home page
Hot Tub Facts
Wooden hot tubs - Cedar Hot Tub - Wood Hot Tubs - Barrel Hot Tubs - Wood Fired Hot Tubs

For 100's of years societies around the world have rejuvenated in the calming and healing pleasures of warm water. From as far back as the ancient Greeks, tales are spoken of the medicinal healing powers of bathing in natural hot springs.
The modern "hot tub" trend started in the 1960's in California, with people modifying large oak wine barrels into private soaking hot tubs. Cedar and Redwood hot tubs were soon introduced because of their natural resistance to decay. These woods have a great natural insulating property and expansion characteristics to form a very tight seal when wet. These California Hot Tubs were the grandfathers that the modern day wooden hot tub is modeled after. Northern Lights Cedar Tubs manufactures hot tubs using a balance of old world cooperage (barrel making) and modern design.
In the 1970s' plastic molding and injection hot tub shells were introduced and quickly these became the fad. The terms "spa" and "hot tub" became synonymous. As with most trends, the classic look of wood and its superior functionality gained a rebirth of the "wooden hot tub". The architectural appeal and unique styling of a wood hot tub could never be matched by plastics. And so, it is, the classic California hot tub has continued its legacy and grown in popularity as people look for simplicity and functionality in their hot tubs or spas.
Today Northern Lights Cedar Tubs Inc. is the world's leading supplier of Cedar Hot Tubs and Japanese soaking tubs. By integrating the old-world art of cooperage (barrel making) with modern advancements in manufacturing technologies combined with the best hot tub equipment, we can confidently say "Our Cedar Hot Tubs are simply the best!"

At Northern Lights, we pride ourselves on producing quality wood hot tubs, this starts by selecting only the top grade of Clear Western Red Cedar. It's superiority to decay, and its sweat aromatic scent have made cedar the number one choice for hot tub construction. It's straight fibrous strands absorb water causing it to expand equally forming a permanent water tight seal. These same porous strands also give cedar one of the highest insulating values of all common woods. Cedar is the natural choice for all outdoor hot tubs and wood burning hot tubs!
We take the ancient art of barrel making (cooperage) and add modern day computer technology including Computer Aided Milling and Computer Aided Design (CAD). Our barrel hot tubs are built with strict tolerances. By using Laser Guided Milling machines, we guarantee that each Stave (wall board) is precisely the exact size. Our Quality Inspection Program, ensures that each wood tub leaves our factory knowing it will exceed our customer's high expectations. Our attention to detail is the reason that our cedar hot tubs are found in some of the world's most prestigious resorts (See some of our hot tub awards and commercial projects)
Our wooden hot tubs come in many different shapes and sizes, from our Classic Cedar hot tub to our
Japanese Ofuro Tub
. Our wooden hot tub sizes range from small 1 or
2 person hot tub
such as our
ofuro soaking tub
to large
round hot tubs
seating up to large 10 person - family tub sales. Northern Light's incorporates the most modern hot tub technology from leading equipment manufacturers in the USA. We feature Balboa Water Group spa parts, (
see our hot tub product specifications
) including powerful but quiet 2-speed pumps, digital spa heaters with LCD top side controllers, advanced filter systems, and powerful jets (See
Electric Hot Tub System
) To compliment our wooden hot tubs, we also offer a variety of custom cedar accessories such as stairs, enclosures and side shelves. Our wooden spas are available with advanced chemical free sanitization systems such as
ozonators and mineral ionizer Hot Tub Systems
for those that prefer a milder, more natural alternative to bromine or chlorine sanitization in spas.

Our hot tubs are available in 4 different heating configurations electric, gas, propane and wood fired hot tub versions. Our Environmentally friendly TimberLineTM Wood Fired Hot tub Heaters use no electricity and are great for off grid wood burning hot tub installations or those concerned about higher operating costs. These are typically found in cottage and are ideal for our smaller Ofuro soaking hot tub. Our Gas HybridTM Heating system in the only combination gas and electric heater on the market. It is a powerful but highly efficient 100,000 BTU natural gas or propane heater combined with our digital electric spa pack giving the customer the flexibility of heating choices. All our electric spa packs are controlled by the most advanced LCD digital top side controllers. Advanced features such as wireless options including Internet ready spa packs are available for remote monitoring.
SERVICE- one of the things that is often overlooked when purchasing a barrel hot tub is the support a customer will receive both during the sales cycle and extending well after the product is installed. Our company believes strongly in providing the best support for the life time of your product. We have been in business for over 15 years and continue to grow because of the personal attention we give each and every customer. This starts with the design of your tub, each tub is truly a unique extension of your backyard. No two installs are the same! Our Design Engineer works with each individual customer to ensure your dream tub suites the location and design you have imagined. Just see what our customers have to say! We also have a great selection of wholesale replacement hot tub parts online!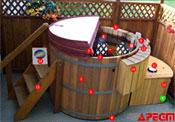 Perhaps the most common question we are asked is the difference between a wood spa and a plastic tub. This can only be answered by one simple response "EXPERIENCE". The 48 high walls of a wood hot tub provide a much deeper soak, giving the body a buoyant floating effect. The pure simplicity in design matched with the advancement in hydro therapy technology allows the bather the pleasures of a simple soak while still providing the option of a full body massage. The circular seating arrangement is perfect for socializing. Of course add the sweet smell of western red cedar, and we know you will find our cedar hot tub EXPERIENCE is 2nd to none!
Check out our Hot Tub Specifications page where we point out what makes our cedar barrel hot tub superior to other round hot tubs. You can also find a many great articles in our wood hot tub article section or visit our Cedar Tub Blog to see what other have to say about wooden hot tubs!