Hot Tub Awards and Commercial Hot Tub Projects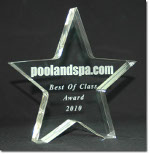 Poolandspa.com, a Nevada based pool and spa web site, announces Northern Light Cedar Tubs & Saunas as a winners of their 2010 Best Of Class Awards for companies in the pool and spa industry. The award program recognizes outstanding and superior products, innovation and/or customer service in the pool & spa industry.
Various sources of information were gathered and analyzed to choose the winners in each category. This years' Awards were based on a combination of factors including product inspections and phone interviews, as well as very detailed consumer input through the use of a third-party consumer survey company. Over 50,000 consumers were polled throughout 2009 to the present.
The 2010 Best Of Class Award Program focused on quality, not necessarily quantity.