Pool Heat Pump SPA-025ZA 10 KW 36000 BTU
Heats/Cools
Air to Water Heat pump for pools, hot tubs and spas
Chiller and Heater in one unit
While hot tub users most often reference the heating requirements, the Arctic Heat Pump is also a chiller if need. That's right.....It can heat and cool based on a simple controller selection. Ideal for hot climates that need a retreat from the hot summer heat! A cold water plunge is a must for Sauna owners. Now you can quickly change your hot tub to a cold plunge tub! Cold water therapy has many health benefits and is growing in popularity in North America as we discover what the Nordic Culture has practice for centuries.
Heating & Cooling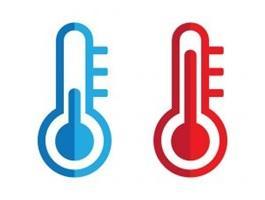 Excessively hot swimming pools cause problems with the chemical imbalance and can quickly become full of algae if not properly monitored. Chlorine gases and evaporates as the water temperature rises. In areas such as California, Texas, Arizona and Florida, the hot summer temperatures can be difficult for pool owners. The Arctic Pool & Spa Heat Pumps allows owners to reduce the temperatures back down to proper levels. By Chilling your pool you can get reprieve from hot summer heat waves, when the temperature drops, the Arctic Heat Pump will switch back to heating mode.
Arctic SPA-15 Heat Pumps works down to 20 F (-7C). This air to water heat source is the most efficient cold weather heat pump on the market. Heats and cools with over 80% savings of traditional heating equipment. This unit is cable of producing up to 10 Kw or 36,000 BTU of heat energy. No other pool or spa heat pump on the market will outperform the Arctic SPA-10 in colder weather. This allows you to open your pool earlier and close it later. It is also ideal for energy saving for spas and hot tubs. Working up to 104 F even in 20 F conditions! The Arctic SPA-10 is great heat pump for any hot tub or Spa.
Features:
Cold Weather Heat Pump Technology 20 F (-7 C)
Titanium Heat Exchanger
Heats and cools automatically
Heat Pump for hot tubs, spas and smaller pools or swim spas
Easy to install with no refrigeration mechanic needed
Digital controller included
Vibration pads included
Drain pan and compressor low temp protection
Hot gas defrost
Drain Pan Freeze Protection for cold weather
Low noise fan
ETL certified for installation in North America
Specifications:
1.5" water connections
Max Amps 12.5
220-240 VAC
Output 10.5 Kw (35,900 BTU)
Weight 190 LBS (87 Kg)
Flow rate 13.25 GPM (pool pump sold separately)
44" high x 18.5" wide x 27.5" tall
1 year parts warranty - 2 year compressor warranty (Extended Warranty Available)
How it works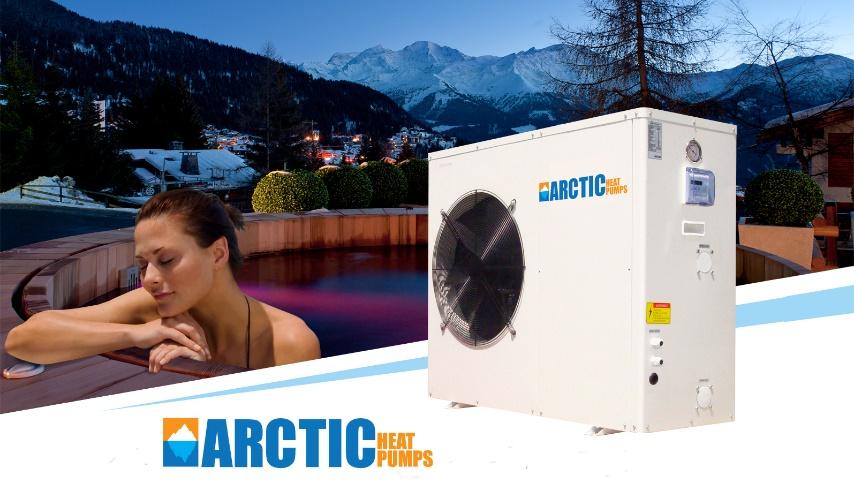 The Arctic Heat Pump harness the energy found in the air. By using an oversized evaporator the energy is removed and transferred to the refrigeration. A compressor compresses the gas causing its temperature to increase. The hot gas then passes through a titanium pool heat exchanger where it is transferred directly to the pool or spa water. In cooling mode the unit reverses direction and chills the pool water by removing the heat from the titanium heat exchanger and discharging it out the evaporator.
The unit consumes only 1/3 to 1/5 of the electricity that it produces resulting is energy savings as high as 80% compared to traditional electric or gas pool or spa heaters. Built in hot gas defrost and drain pan/compressor freeze protection for cold weather performance.
Performance Specifications
SPECIFICATIONS (60HZ)
Air to Water Swimming Pool & Spa Heat Pump With Heat & Cool
Model

ARCTIC

SPA-10

SPA-15

POOL-25

Cooling: outdoor air temp: 43°C, outlet water temp: 32°C, input water temp: 34°C

Cooling Capacity

kW

7.6

13.6

18.1

BTU/h

26000

46500

61800

EER A:43/W:32

W/W

3.6

3.6

3.6

Input Power

kW

2.10

3.78

5.04

Input Current

A

9.5

17.2

22.9

Heating: Outdoor air temp: 24°C/19°C, outlet water temp: 28°C, input water temp: 26°C

Heating Capacity

kW

10.5

18.9

25.2

BTU/h

35900

64500

86000

COP A:24/W:28

W/W

5.5

5.5

5.5

Input Power

kW

1.91

3.44

4.58

Input Current

A

8.7

15.6

20.8

Heating: Outdoor air temp: 15°C/12°C, outlet water temp: 28°C, input water temp: 26°C

Heating Capacity

kW

8.8

15.8

21.0

BTU/h

30100

54000

71700

COP A:15/W:28

W/W

4.6

4.6

4.6

Input Power

kW

1.91

3.43

4.57

Input Current

A

8.7

15.6

20.8

Max Current

A

12.5

22.6

30.1

Power Supply

V/PH/Hz

220/1/60

220/1/60

220/1/60

Grade of Water Proof

IPX4

IPX4

IPX4

Automatic Heating/Cooling

Yes

Yes

Yes

Low Temp Operation

-7C/20F

-7C/20F

-7C/20F

Min Water Temp - Heating

C/F

40 C/104 F

40 C/104 F

40 C/104 F

Min Water Temp - Cooling

C/F

7 C/45 F

7 C/45 F

7 C/45 F

Compressor Type

Rotary

Rotary

Scroll

Compressor Qty

1

1

1

Fan Qty

1

1

1

Fan Direction

horizontal

horizontal

horizontal

Noise

dB(A)

50

54

55

Water Connection

inch

1–1/2"

1–1/2"

1–1/2"

Water Flow Rate

GPM

13.25

23.86

31.79

Water Pressure Drop

Feet Head

5

5.5

5.5

Refrigerant Type

R410A

Unit Net Dimensions ( L/M/H )

inches L/W/H

44"/18.5"/27.5"

44"/18.5"/37.2"

44"/18.5"/49.2"

Net Weight

kg/lbs

87/190

111/244

115/253

Shipping Weight

kg/lbs

93/205

119/262

125/275